Auctioneer brings gavel down on letting at historic building
General | 20.08.2021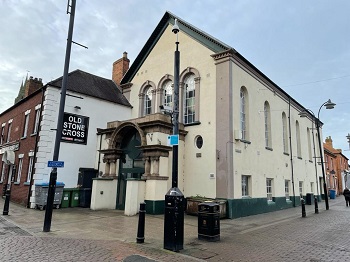 A leading auctioneer, which regularly features on TV antiques shows, is expanding after agreeing a lease on a historic former arts centre in Staffordshire, property consultants Burley Browne announced today.

The former arts centre and registry office in Church Street, Tamworth, in the heart of the town centre, has been let to Richard Winterton Auctioneers.

Richard Winterton Auctioneers has been auctioneering across Staffordshire and the wider Midlands since 1864. With its headquarters in Lichfield, its auctions include sales of paintings, collectables and antiques. It is now set to bring live auctions to Tamworth from the autumn.

Richard Winterton, who is a familiar face on BBC Bargain Hunt and Dickinson's Real Deal, said: "We have regular clients in the Tamworth area and are delighted to be opening an office on their doorstep. The 3,700 sq ft building will accommodate new sales rooms for live specialist auctions and will be open to the public daily for free valuations."

David Hemming, director of Burley Browne who brokered the letting on behalf of a private landlord, said: "I can't think of a better tenant for such an impressive and beautiful listed building. As well as being a great addition to Tamworth, Richard Winterton Auctioneers will, I am sure, prove to be a true custodian for what is an historic and landmark building in the town."

He added: "Whilst Tamworth, along with many town centres across the UK, has faced real challenges over the last few years with the changing face of retail, exacerbated by Covid-19, we have been really encouraged by the level of interest and demand we continue to receive for commercial premises in Tamworth.

This will certainly be enhanced by the investment that is likely following Tamworth being awarded nearly £22m from the Future High Street fund earlier this year.  The letting to Richard Winterton Auctioneers certainly reflects the confidence that occupiers have in the town, and this will undoubtedly strengthen this location further."

Burley Browne is one of the West Midlands' leading independent commercial property consultants. It provides a comprehensive range of commercial property services to a wide variety of clients. These include private individuals and small businesses, through to pension funds, banks, property investors and developers, multi-national companies and national retail and leisure operators. 

From its Sutton Coldfield head office, Burley Browne is unique in providing specialist knowledge of the North Birmingham and Staffordshire areas (which include Sutton Coldfield, Lichfield, Tamworth and Walsall), whilst also serving the wider West Midlands region.